Toniebox: An amazing addition to classrooms!
After seeing an ad for the Toniebox on Instagram, I couldn't wait to get my own! I always love exploring edtech tools and the Toniebox with its colorful character on top piqued my curiosity immediately.
For those who have not heard of a Toniebox, it is a screen free digital speaker system, originally intended for use in the home, however it makes a fantastic addition to any classroom! My students were quite curious when I set mine up and I have been sharing it with many of my educator friends.
Getting started: How does it work?
Setting up my Toniebox was easy and I couldn't wait to hear the story that each individual character would tell. Each Toniebox starter kit comes with one creative-Tonie. The content Tonies (stories and songs) are purchased separately or bundled with starter kits. Each Tonie has magnets which keep it steady on top of the box. It is fun to have a few different Tonies to be able to quickly swap out the stories for students!
The functionality of the box is easy to use. Simply place the Tonie on top and the story begins. The volume is controlled by pressing on the ears and you can move forward or backward in the story by tapping on the side of the box. Having these features means that even the youngest students can navigate their own listening experiences, which is great for personalized learning experiences! With so many Tonies to choose from, students can simply replace the Tonie on the box and pick up with a new story in no time at all.
Choosing a Tonie might be tough since there are so many figures to choose from. Children may find that they have a favorite because of the look of the Tonie or because of the story that it tells. Shifting from being something specific for use in the home, now there is "Tonies for Teachers," a wonderful program for educators interested in using Tonies in the classroom. A Toniebox is a great way to help students to have less screen time and to focus on listening and having a more creative interactive learning experience.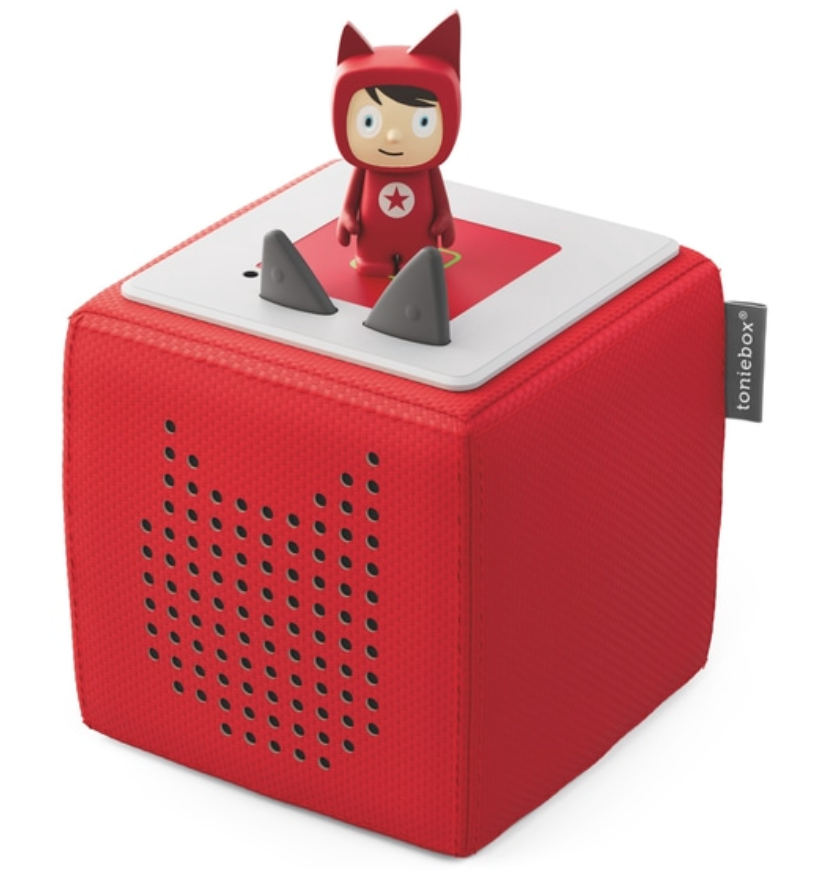 Some ideas to try with your Toniebox
Toniebox makes a great option for storytelling and promoting creativity. Whether teachers create their own stories to share with students or have students create their own story together as a class, the options are endless. With the creative Tonies, you can record up to 90 minutes of audio and there are many possibilities for using them in the classroom.
Try these ideas:
Teachers can tell a story based on the content or grade level that they are teaching.
As a language teacher, I might narrate using the vocabulary or the verb tenses that we are working on in class, to make it a more authentic story for my students.
Students can write stories or create skits and then read them with classmates. Creating and then recording them for all students to listen to and learn from.
Encourage students to continue telling the story or to make an alternate ending to a story that they heard.
Use it for art classes by having students draw an illustration of the story that they are listening to or create a drawing and then work with classmates to record a story.
So many possibilities! Talk about fostering collaboration and creativity and providing for SEL skills development too!
There are a lot of ways that you can personalize learning for our students when using the Tonie box, but what I love is that it is ready to go with a story to be told and students have no problem in getting started with it. While it is designed for younger students, it can definitely be used in other classes.
Using the Toniebox and giving students a chance to listen to the story narrated by the character, will engage them more in learning. We can of course use this at home, telling stories with family members, recording in a funny voice, sharing memories or just having some fun. You use the app and then simply upload your content through the app.
A screen free digital listening experience that includes songs and stories and can promote some creativity for students to write and then narrate their own story to share! It can be used at home and at school, and is another wonderful choice for teachers to bring into the classroom and choose from the many Tonies available for storytelling. The content is stored on the Tonie cloud which can be accessed through the app. Once content is downloaded to the Toniebox, no further internet connection is needed until you want to update it. Also through the app, parents can control some of the settings and also the volume level for the Tonie box.
A very visually engaging, curiosity sparking tool that everyone will enjoy listening to and creating with! Get your Toniebox today and start exploring the possibilities. There are different Tonies and content partners to choose from for sparking curiosity and boosting imagination.
Get your Toniebox today and explore the possibilities for your classroom!
**Interested in writing a guest blog for my site? Would love to share your ideas! Submit your post here.
Looking for a new book to read?