Guest post by Alice Codner, @MsCodner
Let's all go to the staffroom! ( oh wait … )
It was a year ago that I remember a visitor from another school walking into our staffroom and stopping short. "What's happening?" he asked me, bewildered at the merry scene that greeted him, "Is there an event on or something?"
A past foray into supply teaching confirmed my suspicion that in many schools, except the occasional teacher flitting through to grab a cuppa on the flypast, the staffroom generally lies empty and unappreciated. Yet staffrooms have the potential to be a centre of professional development, the focal point for community cohesion and an effective resource for staff well-being. In these days of social distancing and contact tracing, when visits to the staffroom feel more uncertain or even precarious, it is important to remember just what they contribute to school life, and an opportunity to reflect on the value of their place in the school.
Those who imagine that teachers have a whole hour lunch break have clearly never worked in a school. After morning lessons have been eked out and the last child has finally left, there's marking, going over the plan, setting up resources and a myriad of other jobs that should have been done by yesterday. An hour is not a long time.
Oh. And there's eating.
Time in the staffroom so easily gets classed as an extravagant luxury. After all, what isn't done during the day will have to be done after school. Nevertheless, over the years, I can honestly write that I have learnt more in the staffroom than on any course I have ever been on.
I should say at this point that I know I am incredibly lucky. Staff at my school are overwhelmingly kind, friendly and fun, and I do not find the friendship groups and teams cliquey. Not everyone gets on all of the time – that would be impossible in such a large group – but in general, we enjoy each other's company and understand that we all have a lot to learn. I know that I do.
The staffroom is the first port of call when something hasn't worked out as planned. In particular, staff members can give and receive bespoke advice on improving lessons and on effectively supporting the needs of particular children in each other's classes.
Common phrases used in our staffroom include:
"Have you tried …?"
"x worked well with him in year 2 – you could try that"
"What do you think we could do for our [e.g. Vikings] topic?"
"Tell her she can come and show me her next piece of writing."
"He can definitely do better than that. Have you spoken to mum? She's very helpful."
"That's really good for him! You must be doing something right."
"She never used to do that. What do you think might be causing it?"
The advantage of this system is that staff members can get immediate help from those who know the particular families and children that they work with without going to the leadership team, freeing up their time and getting a broad range of input as groups pool their ideas. It also means that many questions get answered before they become problems. More than simply being a luxurious space to relax, the staffroom can be a vital place of casual exchange of expertise and information that benefit the children, the staff and the leaders.
Of course, not all staffroom chat is work-related. Common topics in our school include cooking, weekend plans and Love Island – and believe me, it gets loud! Though superficially this could be judged a 'waste of time', in reality, these positive, relaxed conversations perform a range of important functions. Most obviously, they balance out the intensity of day-to-day teaching life and act as an emotional reset button, making it more possible to start afresh after lunch. Even if it is only for 15 minutes, making the deliberate choice to have a break tells your body that despite the pressure and speed of school life, you are not out of control, and stress levels can be kept in check.
Moreover, these light-hearted conversations form the basis of trust, preparing working relationships to be able to carry the weight of deeper or more difficult conversations when they need to happen. It is always easier to ask a favour from someone you already trust and it is always more enjoyable to do a favour for someone you already like. Schools are places of incredible interdependence. Investing in building positive relationships with other staff makes this interdependence a joy and not a burden.
Working in a school that has a 'staffroom culture' has not only been beneficial to my mental wellbeing, it has also played a significant role in my professional development. At a time when we might not all be able to be physically present in the staffroom itself, we might remember that ultimately, 'the staffroom' means each other. In a school, we are each other's greatest resource, be that in a classroom, in the playground or anywhere else. Let's use that. Just because it's fun, doesn't mean it's a luxury.
Alice Codner is a class teacher and outdoor learning leader at an inner-city school in NW London. As such, she has led a team to start a school farm including growing vegetables and keeping a range of animals, winning the 'School Farm Leader 2019' award from the School Farms Network as well as the 'Best Garden for Wildlife' award from the London Children's Flower Society. She is passionate about school as a hub for community and is convinced that education is the most effective way of addressing social inequality.
@MsCodner   https://partwaythere.co.uk
**Interested in writing a guest blog for my site? Would love to share your ideas! Submit your post here.
Looking for a new book to read? Many stories from educators, two student chapters, and a student-designed cover for In Other Words.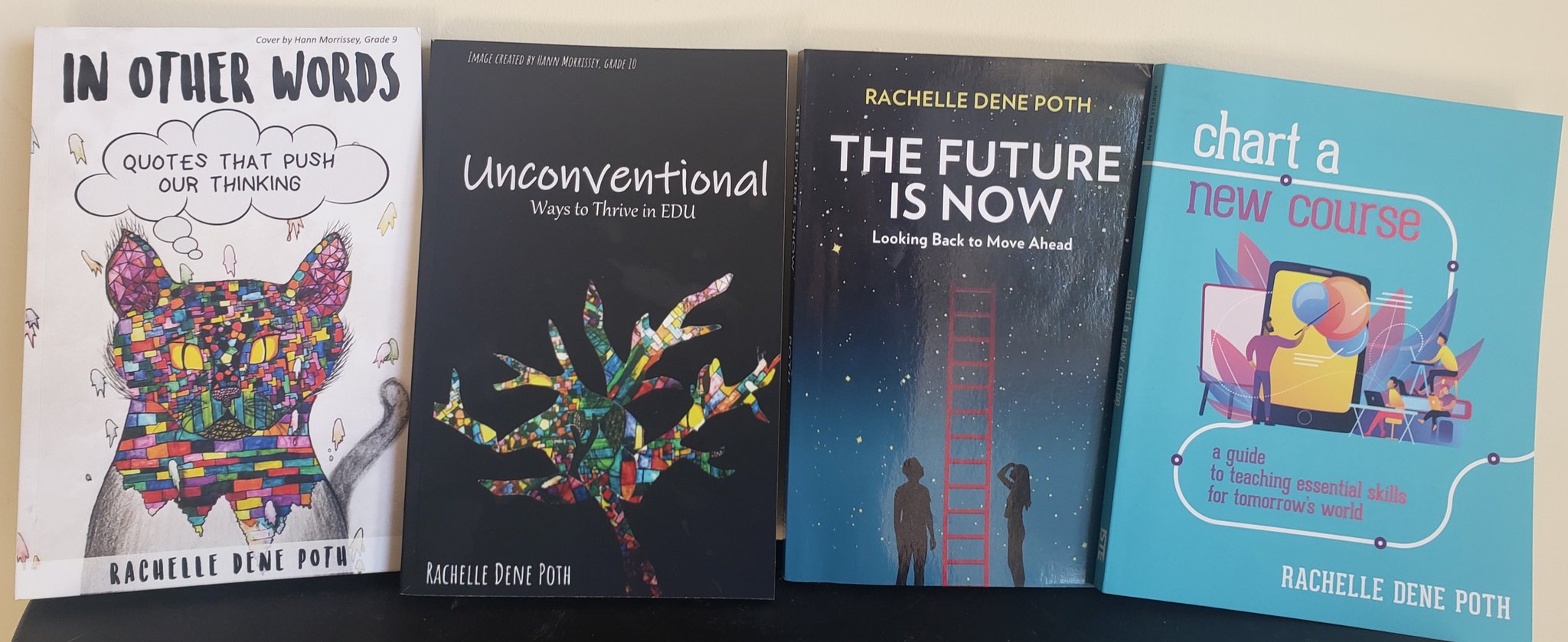 Also check out my THRIVEinEDU Podcast Here!
Join my weekly show on Wednesdays at 4pm EST on Learningrevolution.com THRIVEinEDU  Join the group here