How to Beat the "Back To School Blues"
Guest post by Monica Gupta Mehta @monicagmehta and Co-authored by Ariana Pokatilova, EmotionalMUSE Volunteer
"MOMMYSCHOOL," by Deb Liu, released a cartoon entitled 'Back To School Blues.' The humorous graphic proclaimed fire and brimstone and doom for the 2020–2021 school year. When I saw this cartoon, I was struck by how much I related to every single one of the 10 bulleted items, based on our own family's first week back to school.
This past week was essentially a series of timers set about 20 minutes apart to keep our three kids on track…three kids in three different schools with three entirely different schedules, despite being in the same district. Snack breaks and lunch breaks did not line up even once, which meant the adults in the house were "short order cooks" all day every day. As I frantically attempted to work with any amount of focus in my 15 minute windows of distraction-free time, I found myself looking up to "shhhh!!" the one child who was on break while the other two were on zoom calls. That's right — even when they had breaks, there could be no loud boisterous play, out of respect for their siblings still in school. A collective sigh was heaved each day at approximately 3:30pm.
Reading Deb Liu's 'Back to School Blues,' I find comfort in the knowledge that our family is not alone. If the plane is about to go down in flames, at least we are all in this together. But why is that comforting? I suppose it is the hope that comes from knowing that others are experiencing the same obstacles and challenges; somehow, somebody will come up with solutions to these challenges. As founder of the MUSE Framework for Social Emotional Learning, with a mission of developing the emotional intelligence of generations of students, I felt compelled to offer whatever advice I could to the parents who are attempting to thrive…or at least survive!…during this unprecedented school year.
1. "Orientation: Attended orientation with sixteen 8 year-olds, half didn't know how to mute, one was upside down. Chaos ensued."
I think we can all agree that it is not the most natural thing to have children set up on all day video conferences that rival the schedule of the busiest tech execs.
One way to help mitigate the unfamiliarity of this situation is to teach children the basics of video conferencing, beyond simply showing them how to join a video call. If your child's teacher doesn't already have something similar, share this graphic with them to help create a set of virtual community guidelines. It is also helpful to have a discussion with your children about what steps to take when their call is not working. Teach them to self advocate!
2. "Textbook Pickup: Freshmen book pickup cancelled due to the insufficient staff. Still TBD on the updated calendar. School starts Monday."
It is eerie how similar our experiences were — our schools had to delay materials pickup multiple times, and many students did not have their textbook pick up until after the school year had started. The schools tried to recruit more parent volunteers, but without adequate childcare, most parents with younger kids are not free to leave their homes. My teen found a partial workaround for this problem — there are many sites out there that offer both free and rental versions of textbooks in digital, PDF format. To make this easier for younger children, print out the pages they actually need so they can take notes and annotate as they would in a print textbook.
3. "Class Assignments: Middle school class assignments were delayed until just before the first day of class due to technical issues."
I guess this is one of those "it is what it is" things in life. Hopefully it's true what they say — tough situations build strong people. One thing is for sure…we'll come out of this pandemic with more grit and resilience than we could have learned through any purely educational methods.
4. "Lunch Roulette: Found all three kids have different lunch times. Will need to be a short order cook to feed them."
Ugh. I feel your pain, Deb Liu! This was my life the first few days of school. However, I wised up (eventually) and remembered that we used to pack lunch in the morning before school, and my kids had lunch whenever it fell in their school schedule — without me trying to give them company, or serve them hot, fresh food. Save the nice meals for dinnertime and go back to pre-packed foods that are prepared ahead of time! If you find yourself wanting to make fresh lunches, prepare everyone's lunch at the same time as you prepare the first child's lunch. The other children are likely to be along within the hour, and most foods can sit out that long without spoiling.
For those feeling especially ambitious, one bonus idea I had is to set up a lunch 'playdate' schedule, with virtual calls set up for each child to socialize during their lunch break. For some of my kids, this works great…for others, they just want a break from video calls even more than they want to socialize with their friends at lunch.
5. "School Days: Kids are expected to be on zoom for 5 to 6 hours a day, but each day is staggered so the schedule is different per day of the week, per kid. Send help."
Yes. This. This is exhausting. Not only does each child's day look different from their siblings' day; each child also has a different bell schedule for each day on their own school schedule. This is difficult to manage for all of us, and creates the additional difficulty of children who are on "break" having to be quiet and solitary while the other children are still in school. One way to deal with this is to plan your younger children's breaks a little bit ahead of time, ideally with their input. Write down various break activities your child could do during downtimes. For my own children, I ask them to use the restroom and drink water at every break as needed, then to either get a snack or do anything on the list of brainstormed activities. These include stretching breaks, puzzles, journaling, coloring, quick chats with friends, shooting some baskets, taking a short walk (for older kids), having a mindful moment, reading a book, etc. I also let my kids play in this virtual "playroom" I created, which they find simultaneously both fun and relaxing. (FYI the virtual playroom only works on computers; it is not yet optimized for mobile use.)
I'd also recommend creating a master schedule of all of your children's log in times as well as codes. If possible, give your children "view" access and teach them how to check the master schedule. Include all additional schedule items, such as exercise, meal plans, and extracurriculars. As things change (updated zoom links, changes in schedule) you can then simply update this master spreadsheet, and your kids will always find the most updated schedule/links as they check back throughout the day.
I find it useful to include my own general schedule in this spreadsheet — that way my kids know if I am in meetings or appointments, on a walk with our puppy, etc.
6. "Communication Management: After reading through two dozen back-to-school emails from five schools and filling out online forms for two days, I am sure I missed at least three things. Just not sure which three."
This is not my strong suit; I have come to dread my emails with a passion (can you dread something with a passion?? I think the answer is you can during a worldwide pandemic.). However, one hack I have started using seems to be working pretty well. I've created a separate folder for emails coming from school, since there is so much communication home these days. Any school email that comes across my inbox I dump in the folder to read in the evening, and I keep the email there even after I've read it. Once I am sure I have processed it, noted vital info, and done all tasks from the email, then I remove it from the folder.
7. "School IT Support: Juggled logins to Schoology, Infinite Campus, UpToUs, Google Classroom, Quickschools, Clever, and Konstella to figure out all of the action items. Probably forgot all of the usernames and passwords already."
I think the solution to this one is obvious…it's just frustratingly time consuming. Somehow, somewhere all of that information needs stored where it can be readily retrieved. I threw out my usual hesitation to write down passwords and created a login information tab in my master spreadsheet (the one the kids use to see their schedule each day and all the zoom links). The benefit of this is that the kids can see their own login information, and they now come to me far less for this specific need. If I end up getting hacked because we wrote everything down, I suppose I'll be eating my words. Fingers crossed it all works out.
"8. Calendaring: Realized one of us will be a full-time executive assistant to manage the calendar for three kids or else everything will fall apart."
This is just factually true, and it is no fun. I do have hope this will get better as things become more routine; but it does feel like half my day goes to this. There are two strategies that have helped me counteract this. One is, yet again, my master schedule. Having a really organized place to collect all information, and to update it as it changes, is a game changer. Every bit of new info that comes in has a spot either in that spreadsheet or on my Google calendar. Knowing where to record the constantly changing information as it comes in is half the battle.
The other two thirds of the battle (yes, we are all metaphorically putting in way more than 100% effort!!) is to not procrastinate. This is a huge ask when everyone is overwhelmed and working way too many jobs at once (paid and unpaid)…but aim for an empty email inbox each day if possible. The more you let the emails build up, the more reluctant you will become to address them.
9. WiFi: Our WiFi is melting down already with too many concurrent video connections. Next week will be WiFi-Mageddon."
Oof. I have lost count of the number of things we have tried to do to create enough bandwidth for the kids to all be in school synchronously, for me to get my work done, and for my husband to be on all day long conference calls. We have called our Internet service provider, and that has occasionally helped, as sometimes the issue is on their end. You can also try resetting your router — sometimes if we do that enough, the WiFi magically begins working again.
If this issue persists, internet connection is the area I would say is most worth spending a little extra money if you can afford it. Upgrading to a better router will generally help immensely. We have also purchased something called a MiFi — a personal internet hotspot that can be plugged anywhere, with its own monthly fee. This is amazing to have for our outdoor classroom, which we are doing four days a week (we are allowing some friends to come do school with our kids socially distanced in the backyard). That is, four days a week if the California wildfires are not devastating our air quality and trapping us indoors! (…while simultaneously making us so grateful to have an "indoors" to be trapped in, as our neighbors to the north, east, and south are all being evacuated).
One last suggestion for sparing your WiFi is to encourage yourself and your kids to take breaks from their devices when they are on school breaks. Encourage them to move their bodies and to engage their minds in different ways, such as reading, puzzles, chores and games.
10. "Assessment for School Year 2020: We are doomed."
Well…here's hoping my Dad is right. He is always telling us to be "wildly optimistic." While every word of Liu's cartoon depicts exactly how I felt last week, this week I am optimistic that the tips and strategies collected here can keep us aloft. It certainly won't be a smooth flight, but with a confident pilot and the advice of our co-pilots, I believe we will get through this. Together.
Visit Monica's site EmotionalMUSE.com for Social Emotional Learning curriculum you can use with your children. My first two units include a Piloting Your Plane emotional regulation curriculum for early elementary school children, and a Socializing During A Pandemic social skills unit for secondary school students. It is a rapidly growing site — follow me for updates when new units become available!
_________________*********************
**Interested in writing a guest blog for my site? Would love to share your ideas! Submit your post here.
Looking for a new book to read? Many stories from educators, two student chapters, and a student-designed cover for In Other Words.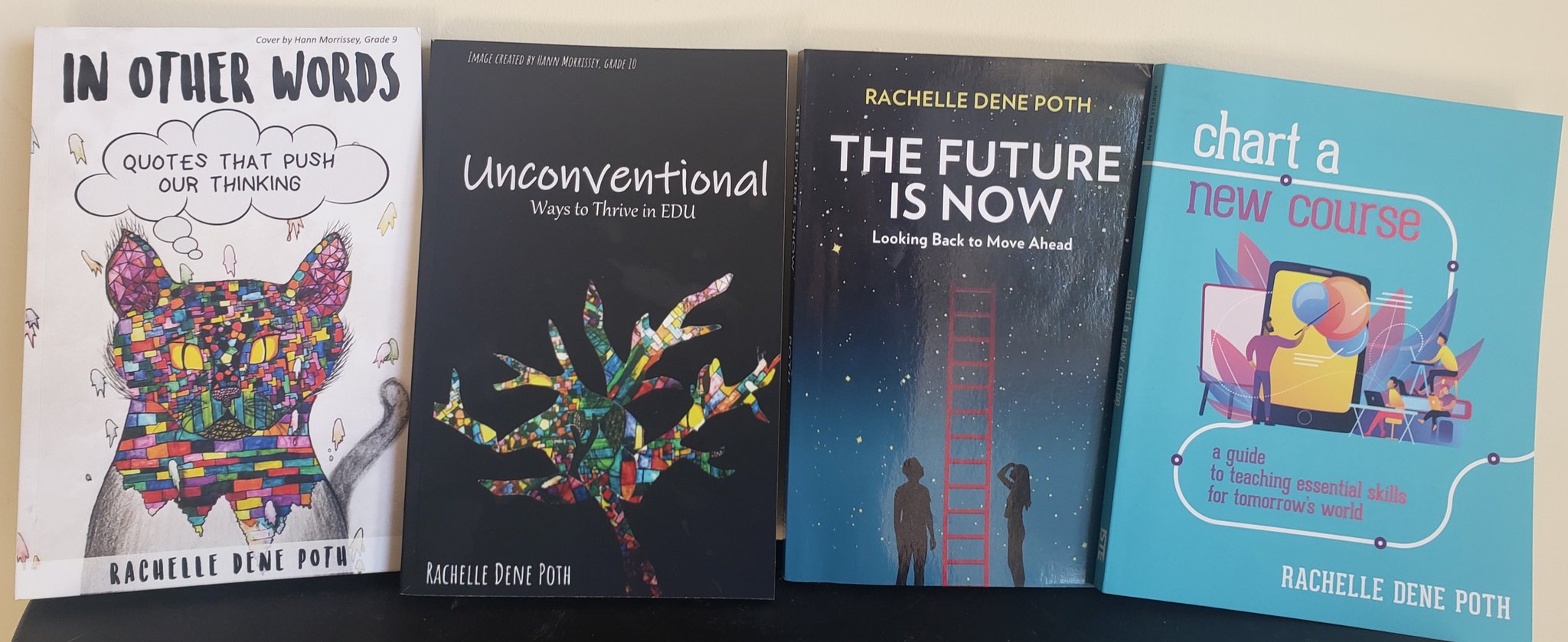 Also check out my THRIVEinEDU Podcast Here!
Join my weekly show on Wednesdays at 4pm EST on Learningrevolution.com THRIVEinEDU Join the group here