What an amazing week it was spending time with Buncee at BETT, the biggest edtech conference in the world held in London. I am so thankful to be a part of the Buncee family and to have had the opportunity to travel to London and share in this experience with Marie Arturi, Francesca Arturi, Eda Gimenez, and Bryan Gorman. It truly was an honor to be there. I love having an opportunity to share Buncee with educators from around  the world and to be able to talk about the impact it has made for students in my classroom and for me as an educator.
BETT was unlike any other conference that I have attended. It was definitely a unique experience to be in a space with around 34,000 people,  many educators who traveled from around the world to learn about trends in education, emerging technologies, best practices and to exchange perspectives with one another. There were so many exhibits and learning sessions happening, but for me, my favorite part of conferences are the connections that are made and the learning from the conversations that happen with those connections. 
Promoting Awareness
For me, being able to spend time learning about what the educational system is like in so many different countries and to better understand the challenges that are faced by educators around the world was eye opening. During my time at the conference, we had so many groups of educators come to the Buncee booth, eager to learn more about how to amplify student choice in learning, promote creativity, nurture a love of learning and support all students. We had conversations with educators from countries like Nigeria, India, the Netherlands, Pakistan, Belgium, France, Saudi Arabia, Portugal, and many others, almost all of whom had never heard of Buncee before coming by the booth and being drawn in by the "Unlock the Power of Creativity" and the beautiful booth display and many Buncee examples showing on the monitor. Educators and students were curious about what Buncee was and how it could be used.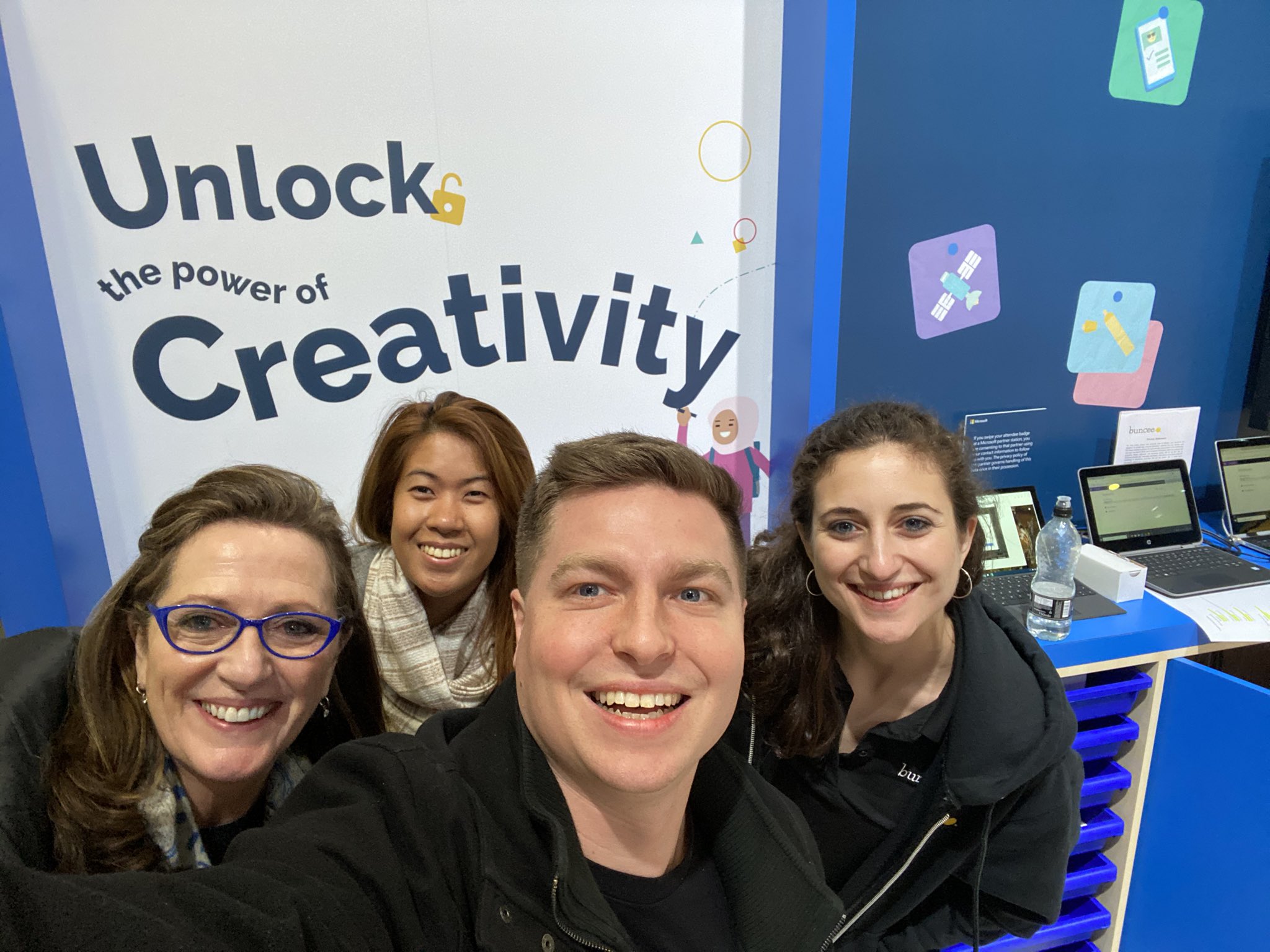 Marie, Eda, Bryan and Francesca
The booth set up was beautiful and everybody who passed by stopped as soon as they saw it and wanted to capture a picture of Unlock the power of creativity. It might have been the most photographed area of the conference if I were to guess, because there were so many pictures taken during those four days!
Working Together
There was so much activity in the Microsoft Education space, which highlighted themes focused on personalized learning, student voice and choice, accessibility and learning tools, unlocking the power of creativity, and collaboration, for a few. Educators moved throughout the Microsoft and partner spaces to learn about each of these topics and find out how to provide more for students using the tools available. It was interesting to see the collaboration of colleagues and teams from the same district or even government organizations showing up to learn about what Buncee has to offer students and educators.
Sharing the Power of Buncee
Every time that I have the opportunity to introduce someone to Buncee, I love seeing their response as they observe all of the possibilities for creation that are available. During presentations, I always ask attendees about their familiarity with Buncee, whether they have heard of it or used it before, and I'm always very excited when a lot of hands  go up to say that it is new to them. Being able to share and show all of the options and ways that it can be used at any level, with any content, is always a good experience for everyone. And I always learn more from those attending because of the specific needs they have for their classroom or the ideas that they are looking for.
Powerful learning
Something that I find to be so beneficial in conferences like BETT whether from presenting in the booth, doing demos, or even through poster sessions, is that you get to have those one-on-one conversations to find out exactly what educators are looking for and hoping to learn. You can really connect and work together to explore the tools and strategies out there and personalize it to exactly what each educator needs for their students and themselves. 
When you can make that direct contact and work with closely with them, they walk away with new ideas that they can put into practice right away, and with the reassurance that is sometimes necessary when it comes to technology, that it can be easy to get started, especially with tools like Buncee.
Sharing a love of learning and love of Buncee
I was honored to present a session with with Eda Gimenez, about using creativity to nurture a love of learning and the power of immersive reader for accessibility for all learners. We worked on the presentation for a while and I was excited and nervous of course, to present. But what always makes a difference is talking about something  that you are passionate about and believe in and also making a connection with the attendance.
What made this session special is that those in attendance had not experienced the wonder of creating with Buncee and were there to learn about it for the first time. Being able to share all of the potential it has for empowering our students with choices and creating opportunities for all students. I admire Eda and the work that she does, the message she shares about the power of Buncee and Immersive Reader for language  learners and for nurturing "a sense of participation, inclusivity, fun and creativity."  
An added bonus is that we were also able to try out the live captioning during our presentation. For attendees in our session, they could join with a code and then select their language of choice for captions during the presentation. Being able to communicate your message, tell a story, share learning between students and families is vital for educators and for student learning. With the power of technology, through tools like Buncee and Immersive Reader, we can make sure that families are involved and information is accessible for every student and their families. 
There are some common questions when it comes to using technology: 
What are the ways you can use it? 
How much time does it take to get started? 
Is there a big learning curve? 
How does it benefit students?
I always anticipate these questions and appreciate the pushback that comes sometimes because that's how we know we are truly looking at the tools and methods we want to bring into our classroom with the right lens. I enjoyed seeing attendees from our session head to the booth to learn more!  It was fun interacting with everyone, seeing their reactions to the Buncees on the screen, and many wondering how to unlock the power Several times there were requests to make sure that somebody would be available to explain Buncee, to do a demo, to answer questions later when they brought back the rest of their team.
Image from Buncee
Highlights
One of my biggest takeaways from experiences like this is that regardless of if we are a teacher in the classroom or the one doing the presentation, we learn so much more from those who are participating in our session or the learners in our classroom. Without a doubt, I walked away with so many new ideas for my students and a greater understanding of how different educational systems are and the challenge that educators have when it comes to a lack of resources. 
It is definitely a joint effort where they want to have everybody involved and learning together with a theme of global collaboration, it surely was that. We made new connections, shared and learning experiences together and continue to learn and grow together.
Meeting Buncee Ambassadors
Something else that made it wonderful experience was being able to connect with Buncee ambassadors from around the world. Meeting Maria in person for the first time was exciting and she even brought gifts for us from Argentina. She is a beautiful person and I'm so thankful to be connected with her! 
I am so thankful to be part of the Buncee team and Buncee family, who truly does join together to do what's best for all students, and build a nurturing learning community fueled by a love of learning.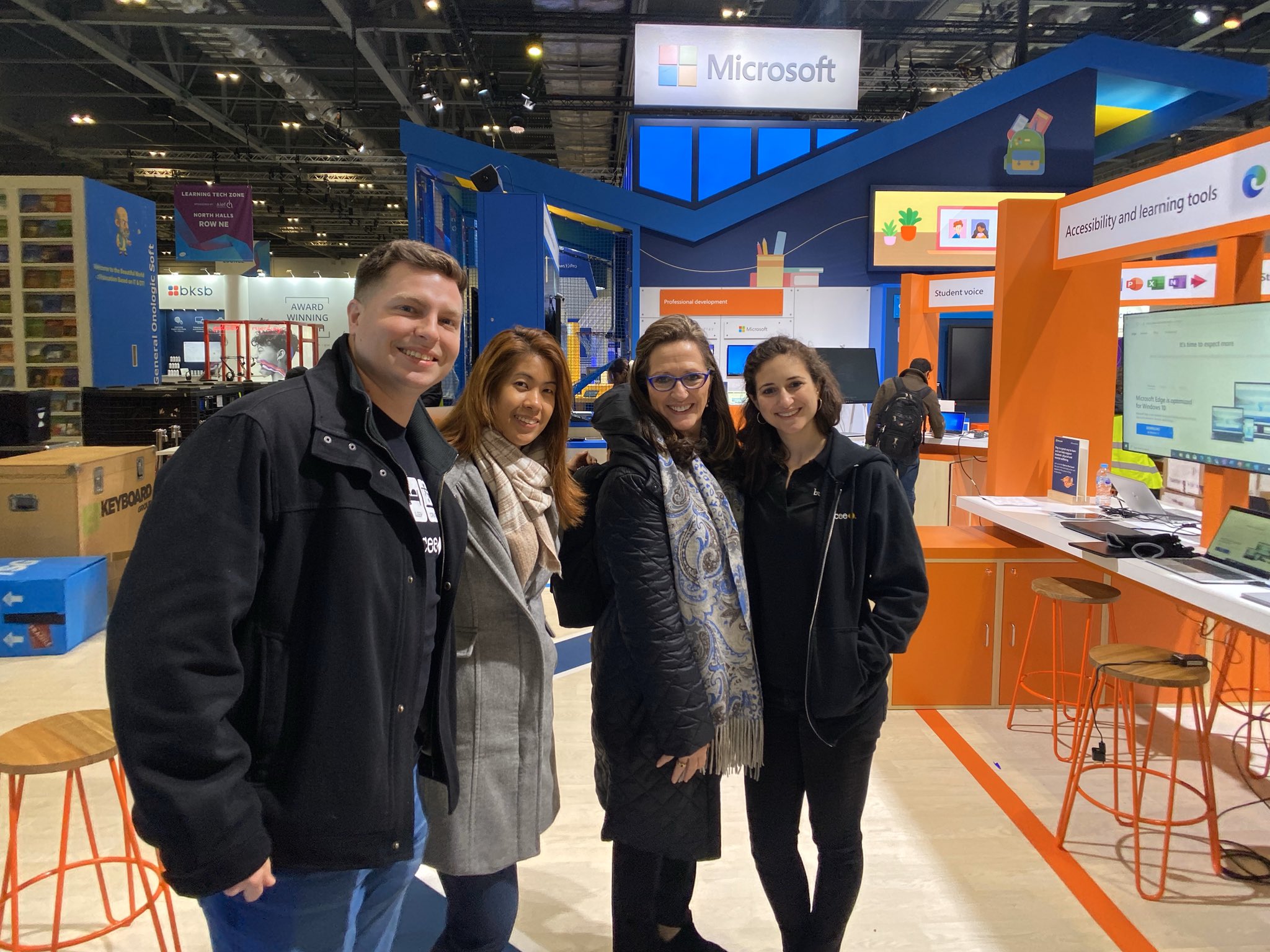 Thank you Buncee for making a difference.